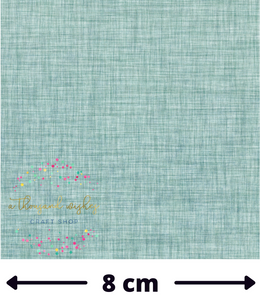 EUCALYPTUS LINEN TEXTURE (Mini Scale) - Cotton Woven Fabric
Regular price $10.06 Sale
or make 4 interest-free payments of $2.52 AUD fortnightly with
More info
COLOUR: Eucalyptus Linen Texture (Mini scale)
WIDTH: approx. 140-160cm
QUANTITY: Sold in 0.5m increments. If you order multiple quantities of this fabric you will receive it in a continuous length. For example, if you order 3 QTY you will receive 1.5m length.
Cotton Woven (100% cotton):
Fabric width: 150cm wide
150gsm
Non-stretch
Use for bows, dresses, shirts, scrunchies etc.
Fabric is hand cut so some slight variations in size may occur.
Please note:
* Printed colours will vary from the image and will also vary between bases, particularly between cotton and polyester bases. Some colours are more prone to variation between bases and we accept no responsibility for this.
* Sometimes small imperfects may be present due to the printed nature of the fabric. We do our best to spot these and will contact you if it affects your order. Any imperfections within 10cm of the the selvage, smaller than a 5 cent piece or on the back of the fabric will not be deemed an imperfection.