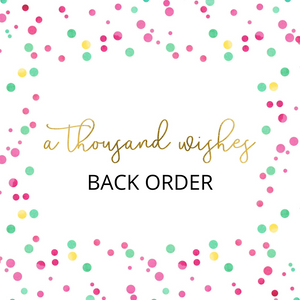 BY PURCHASING YOU AGREE TO THE FOLLOWING TERMS:

- Shipping estimate is 4-10 weeks FROM the time you order

- Colour/size of designs may vary slightly from those previously
- If you purchase other items in addition to pre-orders you will have to wait until pre-orders ship to receive all of the items
COLOUR: Faux Leather Back Order         
SIZE: 30x130cm (approx. 6x A4 sheets)
QUANTITY: One (1) small roll
Use this listing to back order one of our previous custom prints from our print catalogue. Please be sure to correctly add the name of the print you are wanting. There will be no refunds for change of mind or incorrect ordering.
HOW TO ORDER:                     
1. Choose a print from our Print Catalogue                     
2. Write the name of your chosen print in the text box and tick the checkbox to acknowledge you understand the terms of purchase
3. Add the desired quantity and Add To Cart           
IMPORTANT INFO: You must add this listing for each separate print from our Print Catalogue          

Faux Leather (small roll):
30x130cm (approx.)
Thickness 0.8-1mm
Soft white backing
Use for bows, earrings, purses, bags etc.
Fabric is hand cut so some slight variations in size may occur.
Please note:
* This faux leather is custom printed for you so no refunds or change of mind are possible.
* Printed colours will vary from the image and will also vary between print runs. We accept no responsibility for this.
* Sometimes small imperfects may be present due to the printed nature of the fabric. We do our best to spot these and will contact you if it affects your order.